Woodworking
Jump to navigation
Jump to search
The TinkerMill has a wonderful and complete woodworking shop. We communicate using Slack in #woodshop for tool repair status and event coordination.
The wood shop is a great place to learn basic woodworking and more advanced woodworking skills.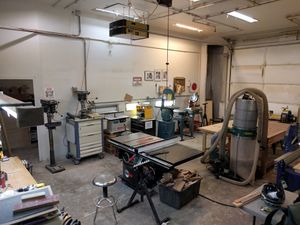 Top things you should know about the Wood Shop
[
edit
]
1. Woodshop classes are hybrid online and in-person. You must take the Wood Shop Safety and Policies Class (Wood Shop S&P) before using the woodshop. Use of any of the power tools that are not hand power tools require certification. All TinkerMill members and members of the public can use hand non-powered and hand power tools. All larger power tools, such as the drill press, chop saw among others can be used after taking a certification class. The ShopBot, SawStop, and Lathe have their own separate certification classes. See the MeetUp calendar https://www.meetup.com/LongmontHackerSpace/events/upcoming for the coming classes.
2. The SawStop table saw is incredibly accurate, powerful and full of safety features. It can be used after Saw Stop Certification class.
3. Every user of the space is responsible for cleaning up during and after your project. There is no cleaning service. If you don't clean up your mess another TinkerMill Member will be forced to clean up and you may loose privileges to use the space. Follow the 105% rule - Leave the space 5% better than the way you found it.
4. The Wood Shop is for wood projects only. Do not use any of the tools on non-wood. The general work bench in the main room has tools to be used for other materials.
Tool and Room Usage
[
edit
]
Checkout MeetUp to find out when the next class or group activity will be held.
Directions for Shopbot http://wiki.tinkermill.org/index.php/ShopBot
Classes
[
edit
]
The Wood Shop is built on the idea that anyone can learn woodworking and some people have varying levels of previous experience. There are no prerequisites for any class except member orientation for equipment with Tinker Access (Currently the SawStop, Hammer Combo, and Laguna Lathe.) Please take them in any order you are comfortable with. Classes are taught by volunteers and are scheduled based on volunteer availability. We attempt to offer Wood Shop 101, Wood Shop 201, and Saw Stop Certification at least once a month. Other classes may be offered based on demand. If a class is of interest, contact a shop captain or message on Slack.
The Woodshop core classes are now a hybrid system of both an online and in-person session (IPCS). You can find the details for each class in this document Woodshop certification classes
1. Woodshop Safety and Policies Class
Learn about general woodshop safety and usage policies. This class is required for all users of the woodshop and will need to be renewed annually.
2. Wood Shop 101
Learn how to use the drill press, belt sander, band saw, miter saw (aka chop saw), router table, panel saw, and dust collection system.
Class handout [[1]]
3. Wood Shop 201
This course covers how to use more advanced tools in the woodshop such as the 16" combo planer/joiner, and drum sander. (requires member orientation with Tinker Access fob)
4. Saw Stop Certification (requires member orientation with Tinker Access fob)
Learn how to use the table saw. Safety orientation. Adjustments on the saw, change blades, install dado stack, change the SawStop brake cartridge, building special sleds and fixtures to enhance your knowledge of the capabilities of the table saw. TinkerMill membership is required to use the saw outside of this class. Also covers shop safety and usage policies.
5. Lathe Certification (requires member orientation with Tinker Access fob)
Get certified to use the Lathe. This is a specialized tool and requires specific safety instruction. Also covers shop safety and usage policies.
The dust collection tools are vital for maintaining a safe environment in the woodshop. Everyone should be familiar with their function and appropriate use:
6. Look on Meetup or postings in the woodshop for other classes.
Any member may use:
Tools Requiring Certification
[
edit
]
The below tools require certification before use. Members can use these tools at any time once they are certified for use on the individual tool. In most cases, certification is through a hands on-class.
(Wood Shop 101):

(Wood Shop 201):

(SawStop Certification)

(Lathe Certification Also covers shop safety and usage policies.)

How to Help
[
edit
]
We always need folks to help maintain this volunteer space. Items marked (anyone) can be done by anyone who has completed Wood Shop 101.

Weekly Maintenance
1. Empty shop vacuum and vacuum under the miter saw.
2. Clean out cabinet on SawStop. Dust and debris accumulates inside the cabinet. Vacuumm it up.(anyone)
3. Knock out filter on Mobile Dust Collector. Empty Bag. (needed more than weekly) (anyone)
4. Swap blade on SawStop let soak in fluid. (Shop Captains, Saw Stop Attendees)
5. Dust collector empty (anyone)
6. Swap Blade on Compound Miter Saw (Shop Captains)
7. Inspect Jointer and Planer blades for nicks (Wood Shop 201)
8. Inspect Powermatic Air Filter and clean if necessary. (anyone) [Video to change the Powermatic air filter]
Resources
[
edit
]
Further learning and where to find supplies
Learning
Great Series of Videos on all wood working topics
Supplies
1. Stan's Hardwood
http://www.longmonthardwood.com/

2. Woodcraft in Loveland
http://www.woodcraft.com/stores/566/woodcraft-of-loveland.aspx
3. Austin Hardwoods in Denver (right off I-25 at Broadway) Many species stocked in thicknesses from 4/4 through 16/4.
Will mill rough stock to S3S (three sides flat, smooth and square to each other) for $0.30/bf
http://austinhardwoods.com/lumber.shtml
Woodworking Tools