Woodworking
Jump to navigation
Jump to search
The TinkerMill has a wonderful and complete woodworking shop. We communicate using Slack in #woodshop for tool repair status and event coordination.
The wood shop is a great place to learn basic woodworking and more advanced woodworking skills.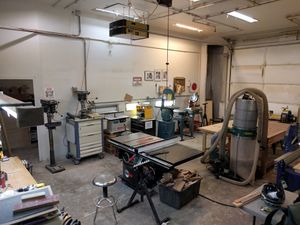 Top things you should know about the Wood Shop
1. Woodshop classes are taught every month. You must take the Wood Shop Introduction and Safety class before using any of the power tools that are not hand power tools. All TinkerMill members can use hand non-powered and hand power tools. All larger power tools, such as the drill press, chop saw among others can be used after taking a certification class. The ShopBot and Lathe have their own separate certification classes. See the MeetUp calendar for the coming classes.

2. The Wood Shop community night is every other week and it is a great place to get advice on how to approach a project or get finer points on wood craft.

3. The SawStop table saw is incredibly accurate, powerful and full of safety features. It can be used after the wood shop certification class.

4. Every user of the space is responsible for cleaning up during and after your project. There is no cleaning service. If you don't clean up your mess another TinkerMill Member will be forced to clean up and you may loose privileges to use the space. Follow the 105% rule - Leave the space 5% better than the way you found it.
5. The Wood Shop is for wood projects only. Do not use any of the tools on non-wood. The general work bench in the main room has tools to be used for other materials.
Tool and Room Usage
Checkout MeetUp to find out when the next class or Community Night will be held.
Classes
We are building classes that are offered in the Wood Shop. The Wood Shop is built on the idea that anyone can learn wood working and some people have varying levels of previous experience. The fictitious course numbers are provided as rough gauge of class level. The Wood Shop Introduction and Safety Class is a prerequisite for all other classes and there are no other prerequisite classes unless specifically noted. Classes are taught by volunteers and not yet taught on a regular basis besides the Introduction class that is taught about once every two weeks. If a class is of interest, contact a shop captain or message on Slack.
1. Wood Shop Introduction and Safety Class (Wood Shop 101)
Everyone using the space must take this class to learn how to use the basic tools and safety features of the shop. Learn how to use the drill press, belt sander, band saw, miter saw (aka chop saw), and dust collection system. This class also includes an optional introduction to using the table saw. This class is a prerequisite for all other classes.

2. Wood Shop Supreme (Wood Shop 201)
Learn how to dimension a board and make a picture frame. This course covers how to use more advanced tools in the wood shop such as the router, planer, joiner, and drum sander.

3. Make a Wooden Spoon (Wood Shop 105)
Learn how to use chisels and gouges to shape wood by hand. Simple power tools such as the band saw and belt sander. The rough contours are created and then progressively finer sandpaper is used to smooth the wood. Finally the spoon is sealed with a food safe finish.

4. Lathe Certification (Wood Shop 110)
Get certified to use the Lathe. This is a specialized tool and requires specific safety instruction.

5. Make a Birdhouse

6. Make a Jewelry Box (Wood Shop 205)
Learn about rough stock selection, resawing stock on the band saw, and designing projects with wood movement in mind while building a small box (approx. 4"x4"x6"). The techniques in this class can be easily applied to larger boxes and chests as well as bookshelves and things with drawers. Approximately 10-12 hours of shop time spread over 4 sessions. Some experience or Woodshop 201 recommended.
Tools
Here is a non comprehensive list of tools. Read up here to find operations manuals and some usage guidelines.
The dust collection tools are vital for maintaining a safe environment in the woodshop. Everyone should be familiar with their function and appropriate use:
Any member may use:
Woodshop Assimilation tools:
Woodshop Supreme tools:
Lathe Certification Class
While this tool is not in the Wood Shop, it is a great resource for sharpening tools in the shop.
Resources
Further learning and where to find supplies
Learning
Great Series of Videos on all wood working topics
Supplies
1. Stan's Hardwood
http://www.longmonthardwood.com/

2. Woodcraft in Loveland
http://www.woodcraft.com/stores/566/woodcraft-of-loveland.aspx
3. Austin Hardwoods in Denver (right off I-25 at Broadway) Many species stocked in thicknesses from 4/4 through 16/4.
Will mill rough stock to S3S (three sides flat, smooth and square to each other) for $0.30/bf
http://austinhardwoods.com/lumber.shtml
Woodworking Tools
Back to: Main Page